PKI platform MTG CARA
A Public Key Infrastructure (PKI) is required for the production, use and management of certificates. MTG CARA is a is a flexible and configurable, multitenant Certification Authority (CA) and Registration Authority (RA) system for a certificate-based and thus highly secure and confidential communication via the Internet. Based on this PKI platform, different CA systems are offered according to specific industry and customer requirements.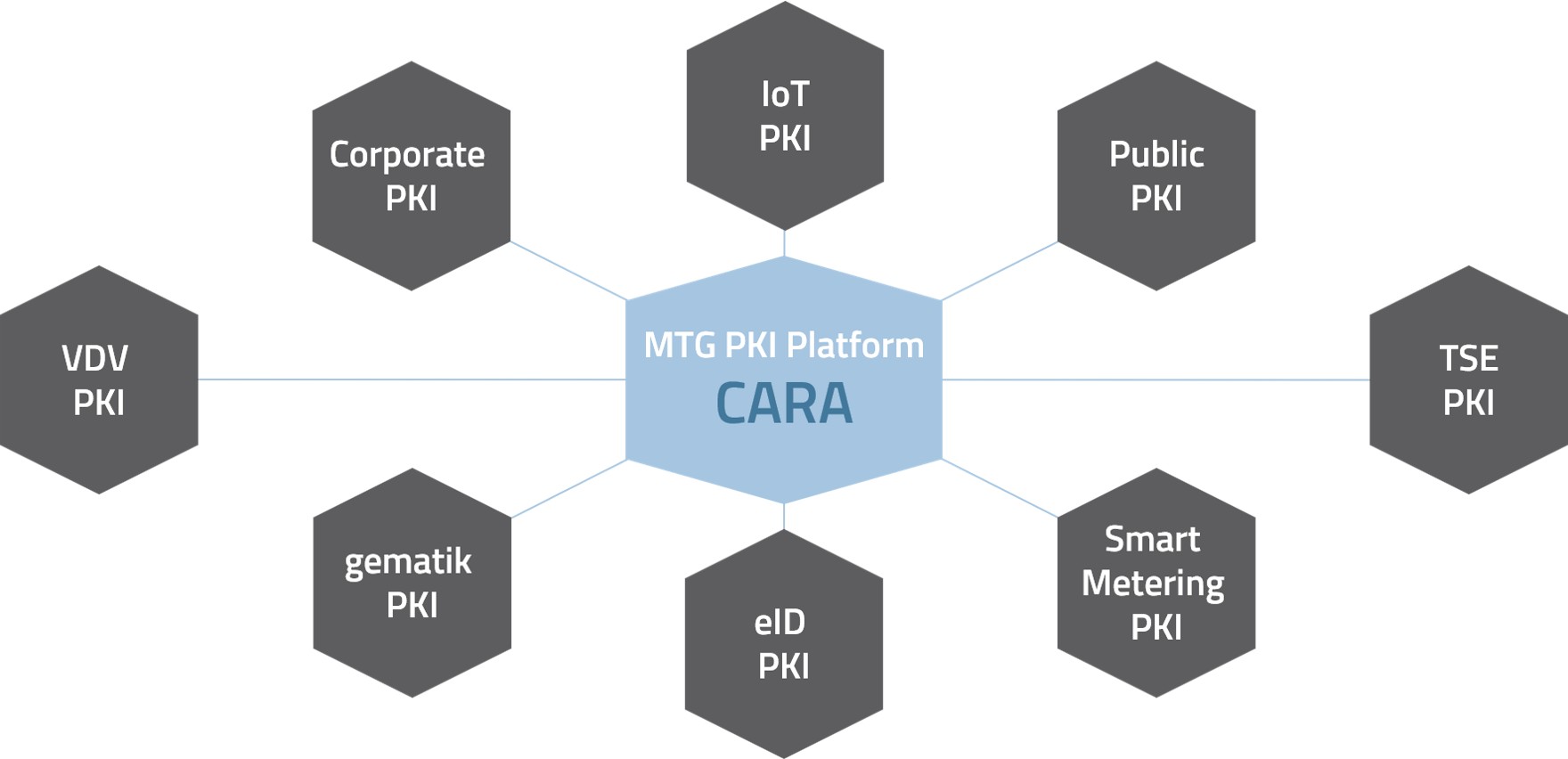 MTG CARA covers all functions for issuing, distributing and validating digital X.509 and CV certificates. In addition to the CA functionality, all functions of a Registration Authority (RA) are already integrated. Generic validation services enable RA processes to be set up quickly and effectively. Further functional components (e.g. LDAP server, OCSP, card management, etc.) complete the product range.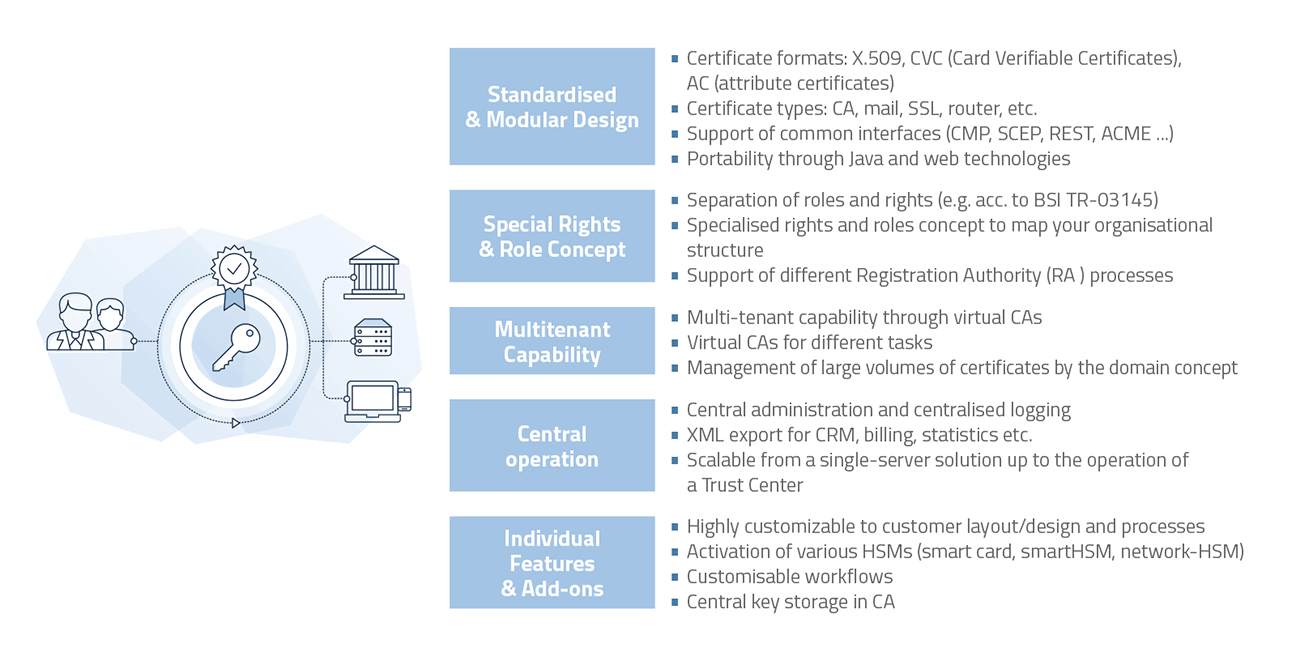 Main Features
Portability through Java, Web technologies and standardized protocols
Modular design allows fast, low-cost customizing
Special rights and roles concept to map your organizational structure
Activation of various signers (soft-PSE, chip card, network-HSM)
Multitenant capability through virtual CAs
Management of large volumes of certificates by the domain concept
Central administration and centralized logging
Certificate format X.509, CV, AC
Certificate types CA, mail, SSL, router, etc.
XML templates for certificate profiles
Revocation lists via LDAP and HTTP
Synchronous certificate management
XML export for CRM, billing, statistics, etc.
Customer-specific layout/design
Scalable from single-server solutions to trust center operation
Definition of workflows for automatic management
Scalable and highly available solution
Our experts will advise you in detail on all questions regard-ing the use and implementation of MTG CARA, our public key infrastructure, in your company.
Add-Ons
Our MTG PKI platform supports standardized interfaces such as REST, ACME, CMP, SCEP, LDAP and OCSP. Security functions can thus be flexibly and seamlessly integrated into corporate or governmental processes to achieve automation and increased efficiency of business processes.
MTG Smart Bridge
MTG SmartBridge enables card personalization for different card types (e.g. TCOS, Car-dOS, StarCos) via web application or stand-alone application. In addition to certificate management features, QES signatures can also be created for PDF documents. MTG SmartBridge requires no JRE installation on the client system and is available for Windows, Linux and Macintosh for all common browser types.
MTG OCSP Responder and LDAP Integration
The MTG OCSP responder supports the internet protocol "Online Certificate Status Protocol" to check the validity of certificates. MTG CARA can easily use existing LDAP servers to store revocation lists and certificates according to different policies.
Industry-specific PKIs
Zertifikatsbasierte Lösungen können vielfältig eingesetzt werden. Dank des modularen Designs kann die MTG PKI für die verschiedensten Branchen einfach angepasst und kostengünstig genutzt werden.