Overview - IT Security for Smart Metering
The roll-out of smart meter gateways in Germany is associated with high security requirements in accordance with BSI-TR 03109 and the Certificate Policy of the Smart Metering PKI. MTG offers a comprehensive portfolio of solutions tailored to these requirements, which enable and facilitate the implementation of cryptographic processes in compliance with the regulations.
MTG IT security solutions are aligned with legal requirements for the Smart Metering in Germany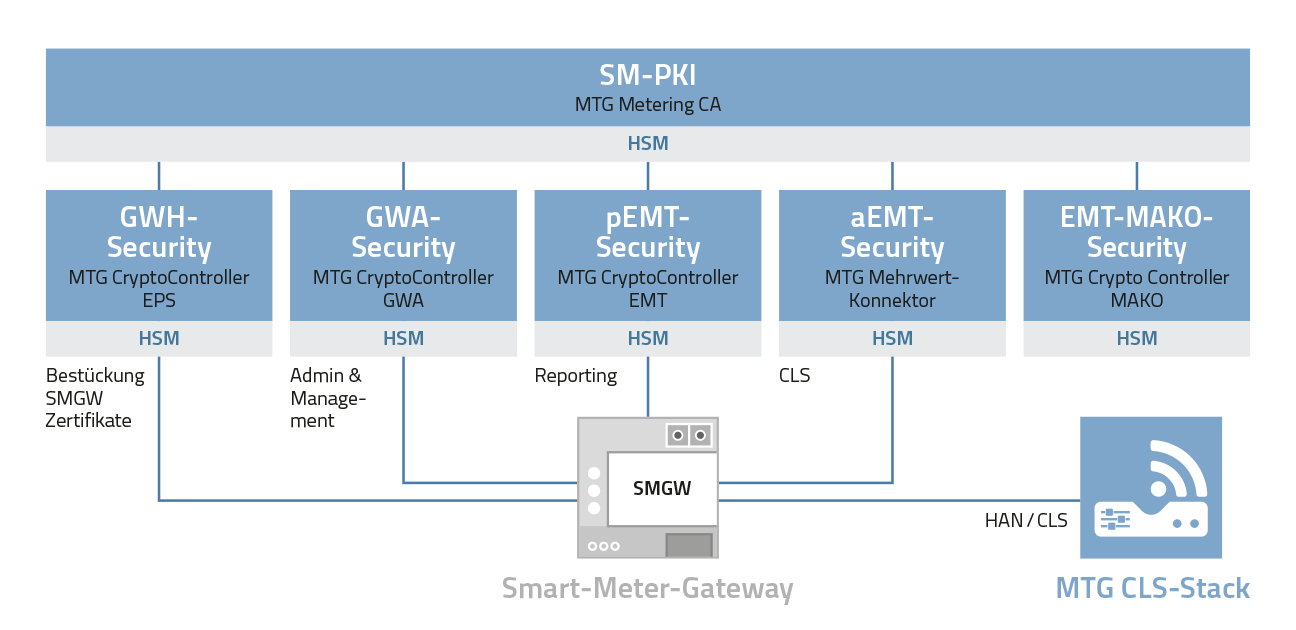 CLS MANAGEMENT
MTG Mehrwert-Konnektor (active EMT)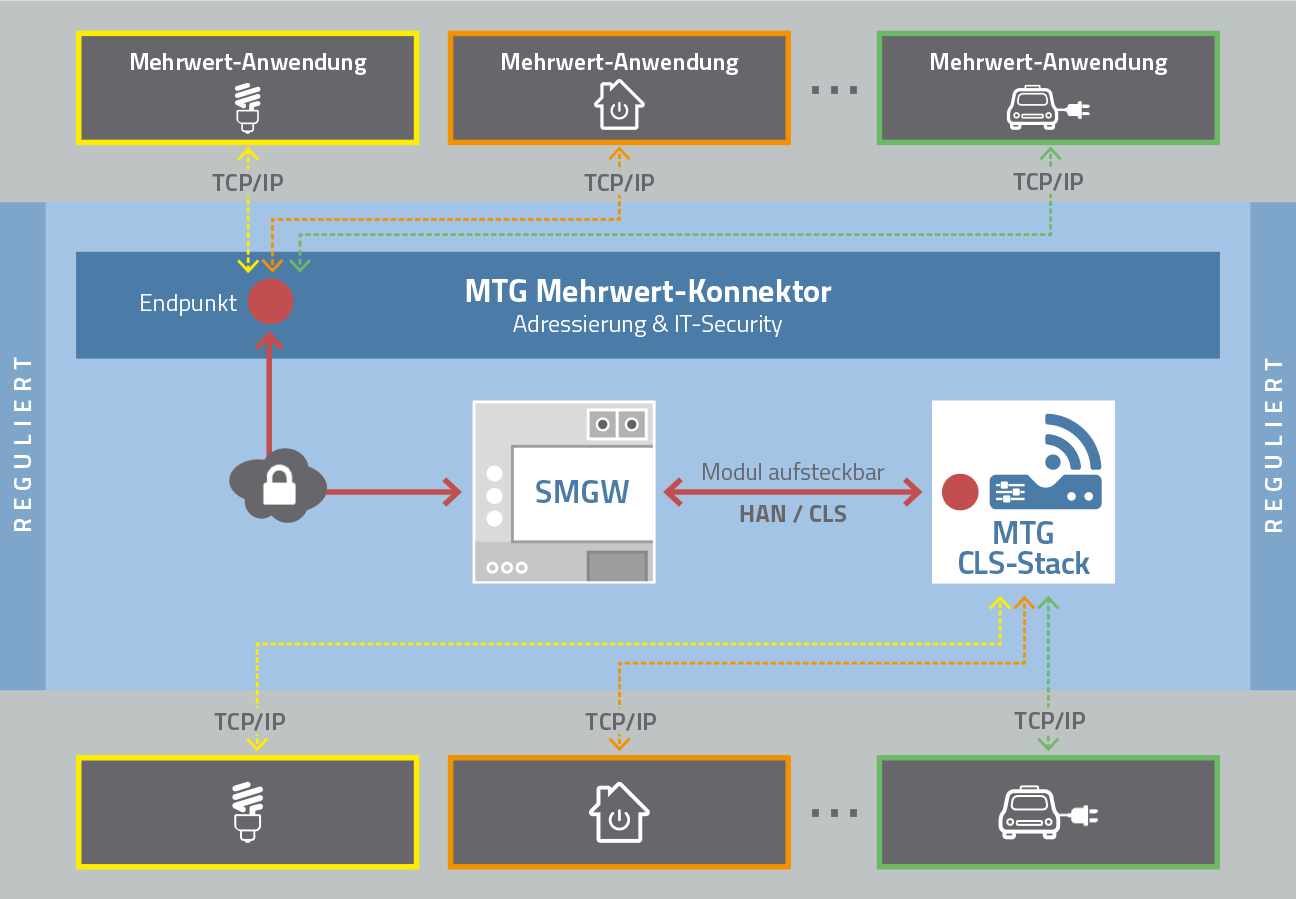 The MTG Mehrwert-Konnektor (eng. value-added connector / MWK) is a central security and communication system for energy suppliers who want to control various IoT devices in a network via the CLS channel (CLS - Controllable Local Systems). This enables utilities and other industries to offer value-added services successfully. IoT devices can thus be controlled via the CLS channel of the Smart Meter Gateway and the legal requirements of BSI-TR 03109 can be complied with. On server side the innovative software builds the BSI-TR-03109 compliant communication link to the SMGW and also offers the option of controlling any number of connections via the CLS channel.
Already integrated devices
Device type

Use Case

Manufacturer - Model

Battery storage

Photovoltaics

Data logger

Remote meter reading

Data logger

Submetering

Data logger

Control & monitoring of solar systems

Data logger

Home energy management

SMA - Coneva / Sunny Homemanager

Data logger

Remote meter reading

Heating element

Photovoltaics

LoRa Wan Gateway

Smart City / IoT

LoRa Wan Gateway

Smart City / IoT

RAK - RAK7258

M-Bus level converter

M-Bus meter reading

Diehl - IZAR Center

Power Inverter

Photovoltaics

KACO - Powador

RLM counter

Remote meter reading

Wallbox

Charging point management

Wallbox

Charging point management

Wallbox

Charging point management

Wallbox

Charging point management

Wallbox

Charging point management

Wallbox

Charging point management

Wallbox

Charging point management
CONTROL & MEASURE
MTG CLS Stack
The MTG CLS stack provides a reliable connection of end devices via the CLS channel to the SMGW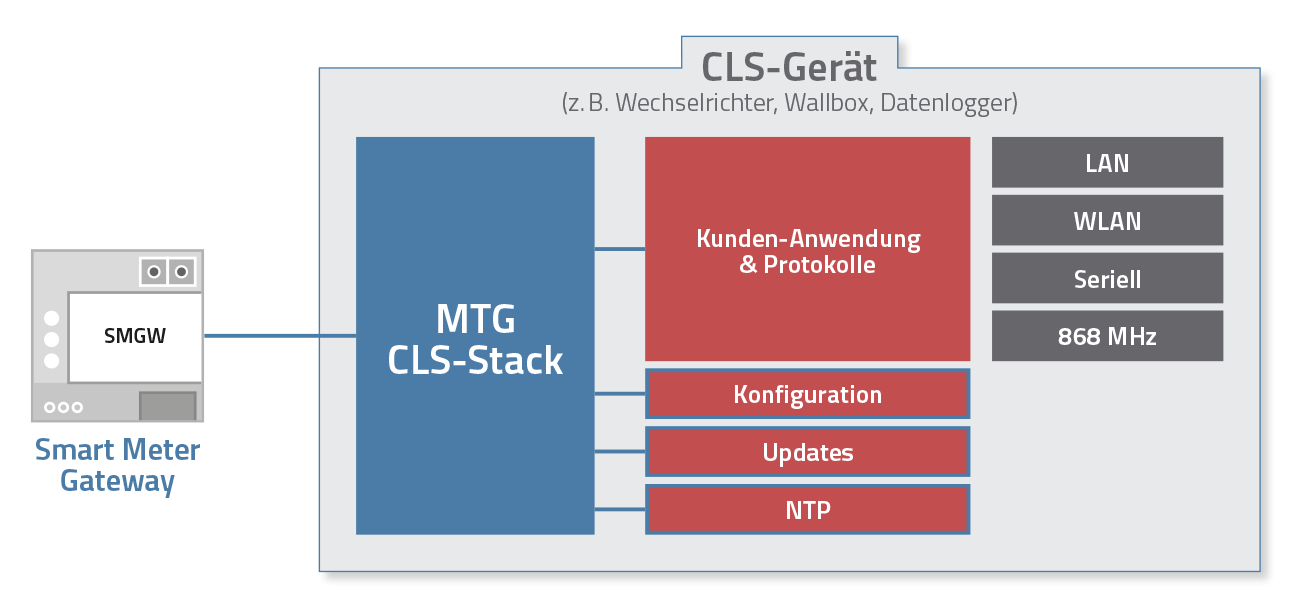 Perfectly matched to each other:
MTG CLS stack & MTG Mehrwert-Konnektor
A connection to the SMGW infrastructure becomes even easier when the CLS stack is used in combination with the MTG Mehrwert-Konnektor. Thanks to MTG's specially developed switching technology, virtually any TCP/IP-capable CLS device can be connected to the SMGW. Standardized addressing via TCP/IP allows you to implement your projects with minimal configuration effort. This enables your business ideas and models to be planned and calculated quickly and reliably.
Developing and testing:
MTG SDK for device manufacturers
The CLS stack comes with an SDK for Windows operating systems. This supports the development of the CLS device and the test execution. The connection to SMGW, GWA , EMT and SM-PKI is simulated as far as necessary and reduces the technical setup effort significantly.

MTG CryptoController for AS4-based MAKO
The MAKO application can be connected quickly and easily to the required cryptography and Smart Meter PKI via the MCC API. This enables our partners to fully concentrate on the optimal design of all other MAKO processes. The system is multi-client capable, thereby horizontally and vertically scalable and designed for high availability.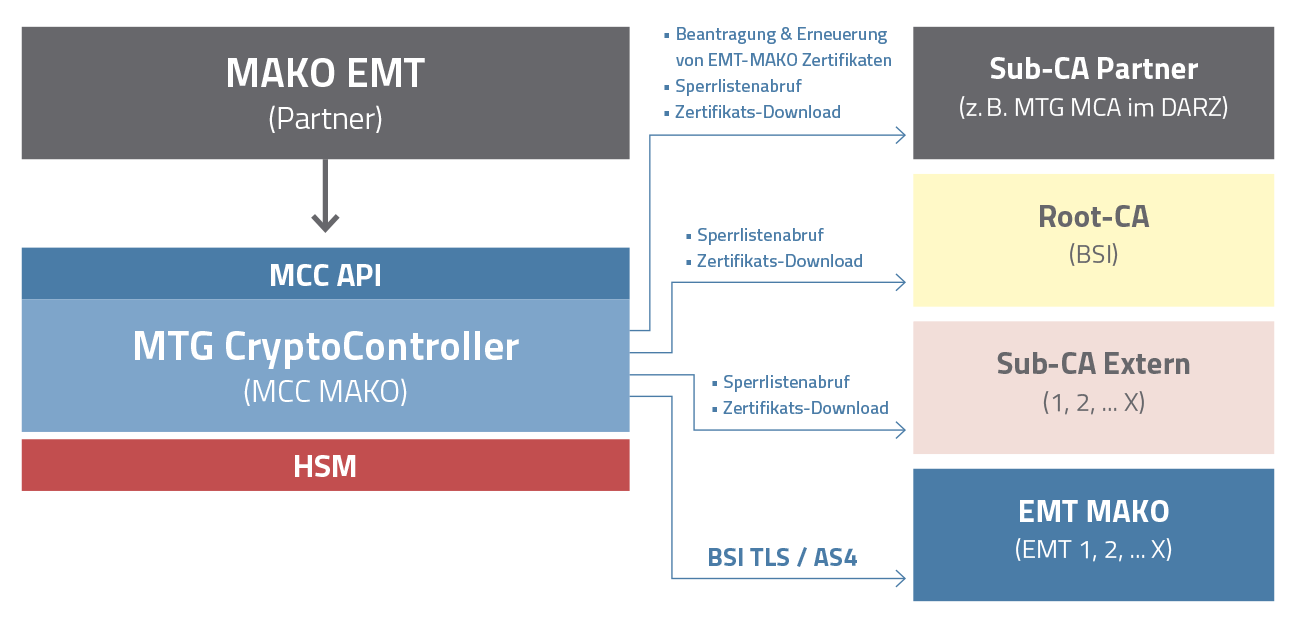 Following tasks are performed by the MTG CryptoController
Certificate management (certificate triples per participant)
Foreign certificates are obtained from other Sub CAs (LDAPs
Revocation lists and checking of certificates of SM-PKI participants (GWA, EMT, Root- & Sub-CAs)
4-eyes principle: certificate request & certificate renewal (Web Service Sub CA)
Management of credentials and certificates of foreign Sub Cas
Easy testing and integration is possible with our MAKO-SDK
SMART METER PKI
MTG Metering CA (MCA)
MTG Metering-CA is a PKI system designed to create and manage certificates for the German Smart Meter roll-out. It meets the technical requirements of the BSI TR-03109-04, BSI TR-3145, as well as the certificate policy of the Smart Metering PKI. The MTG Metering CA is used by SMGW manufacturers, Smart Meter Gateway administrators and in market communication.
The MTG Metering CA is a leading Smart Meter Sub CA product and has already been installed several times in GWA data centers which have been successfully certified according to DIN ISO 27001. MTG Metering CA customers benefit from the multi-client capability and very high scalability of our product.
CORPORATE PKI
MTG Corporate PKI
With the MTG Corporate PKI, energy providers can optimally implement their certificate management in the company for the various use cases. The issued certificates can be used, for example, for the communication infrastructure (e.g. routers, switches, firewalls, VPN...), the connection of mobile or home workstations and for mobile device management (smartphones). Certificates from the Microsoft PKI can be managed with the MTG CLM. Public certificates from selected Public CA providers can also be used.
KEY MANAGEMENT
MTG CryptoContoller (MCC)
MTG CryptoController is required for Smart Meter Gateway communications in accordance with BSI TR-03109. To receive and read encrypted data, "External Market Participants" ("EMT") and Gateway Administrators must authenticate at the Smart Meter Gateway by using a secure channel.
By using the MTG Metering-CA and the MTG CryptoController, manufacturers of Smart Meter Gateways are able to equip the hardware very quickly and flexibly with the required initial certificates. Furthermore, the own Firmware can be protected with certificates to ensure that the SMGW can be operated only with original manufacturer software. This system is in operation at leading SMGW manufacturers.