Our quality standard
MTG develops and distributes innovative IT security software solutions with high demands on confidentiality, integrity and availability. The fulfillment of these security objectives in information security is our self-evident quality claim.
Since March 2017, the entire company has been certified according to ISO/IEC 27001.
IT Security Made in Germany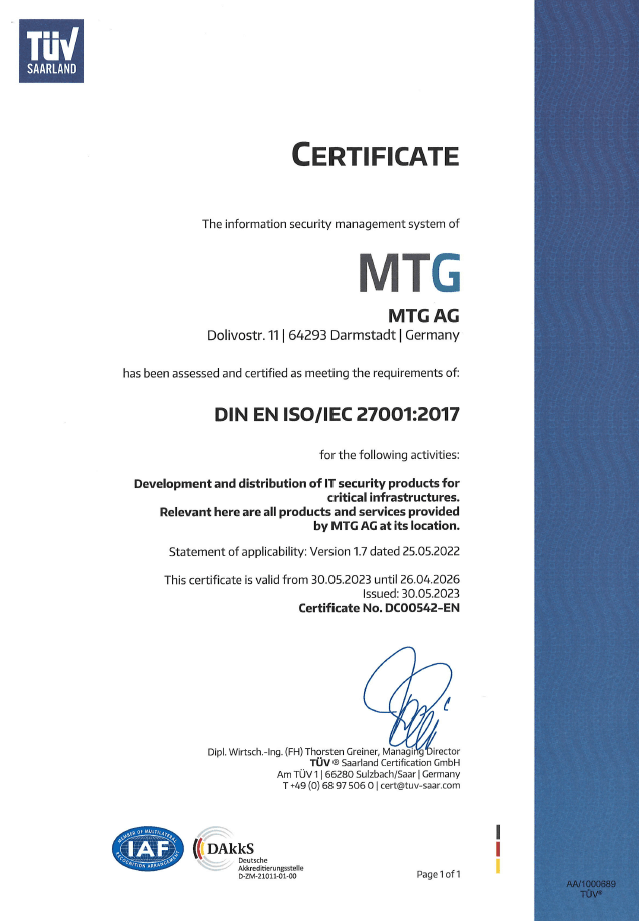 MTG software always complies with cryptographic and operational requirements from NIST and BSI. These are actively monitored and regularly updated. MTG development guidelines include reviews and checks for secure coding constructs. This includes the consideration of OWASP guidelines. The developers are supported by automated code analysis. Penetration tests are part of our release process.
We are already developing solutions in the field of post-quantum cryptography (PQC) to protect our customers' ERS® systems against future threats from quantum computers. An important aspect for the successful integration of new PQC algorithms is the use of hybrid methods. Hybrid methods combine the advantages from both worlds: On the one hand, the robustness of crypto methods that have been proven millions of times and are in use (e.g., RSA, ECC) and, on the other hand, the combined use of the new, post-quantum secure methods.
MTG Software is "Made in Germany".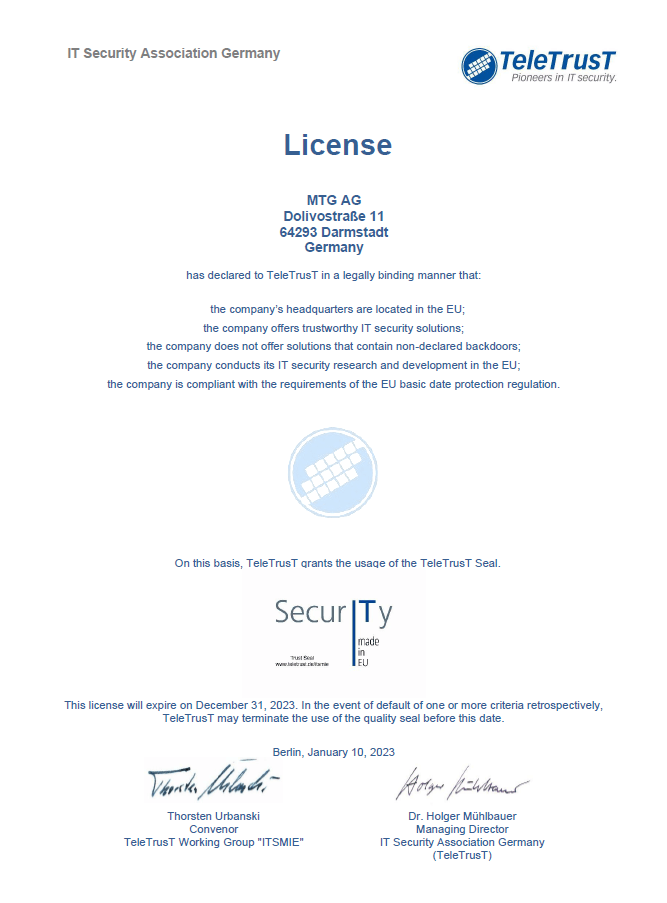 Dipl.-Wirtsch.-Ing.
Jürgen Ruf
Chairman of the Board
Jürgen Ruf is co-founder of MTG and has been CEO since 2009. In more than 30 years, he has gained broad experience in the areas of research and development, standardization, finance and service of IT companies. During this time, he has also been involved in the foundation and development of start-ups in the Internet sector.
---
Dipl.-Kfm.
Tamer Kemeröz
Member of the Board
Since 1994, Tamer Kemeröz has worked in strategic marketing, innovation management and new business development for consumer brands, energy companies and in the IT sector. During this time, he has successfully directed numerous product innovations from idea generation up to international marketing.
---
Dipl.-Inform.
Ralf Dotzert
Head of Customer Services & Consulting
Ralf Dotzert is co-founder and authorized signatory at MTG. With more than 30 years of experience in IT enterprise, IT security and communications solutions, he is an exceptional expert in the design, consulting, implementation and setup of secure networks. Along with his team, he provides the best possible planning and realization of customer projects, as well as professional support for the operational processes.
---
Dipl.-Ing., MBA
Horst Kruse
Head of Sales
For more than 30 years, Horst Kruse has been responsible for the sales of complex IT solutions in various market segments such as telecommunications, banking, industry, eHealth and others for national and international companies. For more than 18 years, his sales focus has been on the acquisition, development and support of strategic customers across industries in the area of IT security.