Top News
May 9, 2023
MTG AG presents portfolio at E-World 2023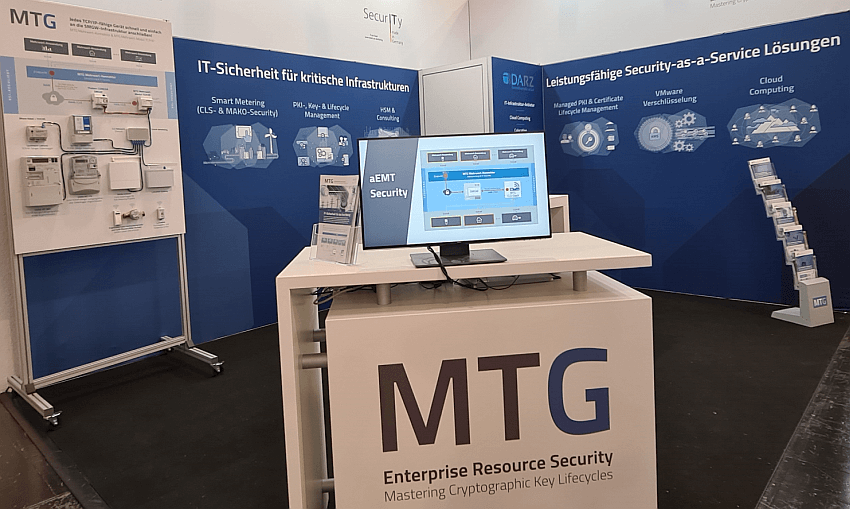 From May 23-25 in Essen at E-World in Hall 2, Booth 511, MTG will showcase solutions for smart metering security, CLS control, Managed PKI and VMware encryption, as well as IT security for critical infrastructure operators.
Smart Metering Security and CLS Control
MTG offers a comprehensive portfolio of solutions tailored to the security requirements of BSI-TR 03109 and the Certificate Policy of the Smart Metering PKI, which enable and facilitate the compliant implementation of cryptographic processes. In addition to the well-proven MTG Metering-CA, this also includes solutions for active EMTs and manufacturers of CLS devices who want to communicate via the SMGW in a vendor-independent manner. This makes new energy-related business ideas and models quickly and reliably plannable and calculable. For AS4-based market communication, MTG presents a special solution for partners who want to implement the required cryptography, including the necessary HSM, quickly and easily as part of their MAKO processes.
Powerful Security-as-a-Service
solutions
In cooperation with the multi-certified infrastructure service provider DARZ GmbH, new Security-as-a-Service offerings will be presented. These are designed to help meet the growing security requirements resulting from NIS 2, DSGVO, ISO 27001 and industry-specific standards.
Managed PKI
MTG Certificate Lifecycle Manager is a solution that optimizes all certificate-related processes over the entire certificate lifecycle and is offered as a Managed PKI service. Especially attractive for users is the option to include certificates issued from a Microsoft PKI. Public certificates from selected public CA providers can also be used.
VMware Encryption
Energy providers who want to encrypt their VMware quickly and easily can now do so with very little effort thanks to the new Encryption-as-a-Service offering. MTG's VMware-certified Key Management System is connected to the customer's vCenter and enables VMware instances to be encrypted with just a few clicks. This protects all sensitive data in the VMware VM. With the offered solution the user has a consistent encryption procedure; this saves time, costs and reduces complexity.
You are welcome to arrange an appointment with us by e-mail or just drop by our booth for a spontaneous exchange. We are looking forward to meeting you!
Appointment
Just give us a call at: +49 6151 8000 0