Fri May 08 19:07:00 CEST 2015
GÖRLITZ enters into co-operation with MTG

Aiming to provide the highest level of security for its metering system IDSpecto, GÖRLITZ has entered into a co-operation agreement with the expert company MTG AG. In future, the interface link between MTG's security modules and IDSpecto guarantees that all security relevant processes are carried out according to the technical guidelines TR-03109 of the Federal Agency for Security in Information Technology (BSI).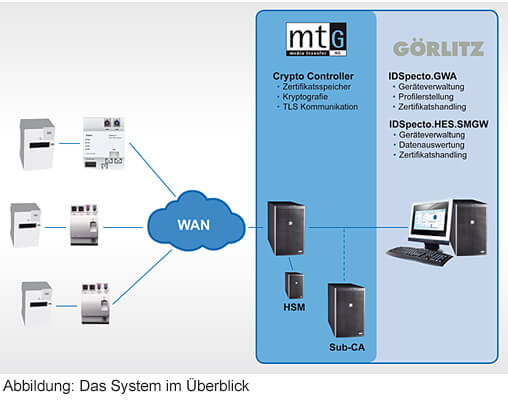 Reliable, secure data transfer provides a crucial basis for communication with intelligent data metering systems. As a result of this co-operation between the metering specialists GÖRLITZ AG and the security experts MTG, two companies, whose core competencies ideally complement each other, have joined forces. This combines the technology competencies of GÖRLITZ in the field of energy data collection and processing on the one hand, with the professional solution of MTG, a company with extensive expertise in the field of security on the other. Both parties look forward to a long-term cooperation in the smart metering field and are well-positioned now and in the future to fulfil all necessary requirements.
Using the interface link to MTG's complete solution, IDSpecto can now perform cryptographic processes, such as data encryption as well as certificate and key administration management, required by IDSpecto.HES.SMGW and IDSpecto.GWA to provide the essential level of communication with the Smart Meter Gateway (SMGW). IDSpecto.HES.SMGW ensures that at the external market operator (EMO) data can be securely extracted from the SMGW, decrypted, standardized and made available to other systems for further processing. In IDSpecto.GWA – the module for the Gateway-Administrator – the SMGW can easily and reliably be configured and converted for normal operating tasks.
All component modules required to initiate certified conversions according to cryptographic specifications of BSI TR-03109 for the Gateway-Administration will be supplied by MTG. The PKI-Product MTG-Metering CA will as Sub-CA become the certificate authority. With the support of the MTG-CryptoControllers, the multitenant mass data communication will be secured by means of TLS-Encryption, the CMS-content data storage as well as certificate management. A special cluster-compatible software for HSM and TLS-Management offers high-level reliability and dynamic scalability.
Customers will most certainly benefit from the implementation of this comprehensive professional solution of integrated secure processes, which not only on the part of the Gateway-Administrator but also at the external Market Operator provide BSI-conformity for data reception and data reception processing. Due to a consistent separation of security (MTG-CryptoController) and application (IDSpecto), an ultimate maintainability of the system will always be achieved regardless of future and ever-changing requirements.
Live demonstrations are being held at the ZMP Leipzig, where GÖRLITZ is offering first hand testing configurations at attractive conditions.
Über GÖRLITZ
Die GÖRLITZ AG bietet Lösungen zur Automation der Energiemessung. Mit seinen Software- und Hardwarelösungen in den Bereichen Smart Metering und Smart Meter Data Management ist das Koblenzer Unternehmen Marktführer in Europa. Der Schwerpunkt liegt auf der technischen Umsetzung von Systemen und Prozessen zur Erfassung, Qualifizierung und Kommunikation von Mess- und Energiedaten. Daneben stehen ein breites Spektrum an Dienstleistungen bis hin zum Hosting sowie Schulungen zur Verfügung. Zu den Kunden zählen nationale und internationale Energieversorger, Netzbetreiber sowie namhafte Unternehmen aus den Bereichen Industrie, Transport und Verkehr. Zur Unternehmensgruppe gehören Tochtergesellschaften in der Schweiz, in Österreich, in Italien und Dänemark. Die GÖRLITZ AG ist Teil der IDS-Gruppe und realisiert im Rahmen dieses Unternehmensverbundes umfassende Lösungen für Netzbetreiber.
Über die IDS-Gruppe Holding GmbH
Die IDS-Gruppe ist ein Spezialist für IT- und Automatisierungslösungen für Smart Grid und Smart Metering für den deutschen und europäischen Markt der Ver- und Entsorgungswirtschaft. Ihr innovatives Produkt- und Dienstleitungsportfolio ist auf alle Aspekte des technischen Netzbetriebes, der geodatenbasierten Informationsverarbeitung und des Zählerwesens ausgerichtet. Mit mehr als 650 qualifizierten Mitarbeitern in den Bereichen Entwicklung, Vertrieb, Fertigung, Projektabwicklung und Administration erreichte die IDS-Gruppe im Jahr 2013 einen Konzernumsatz von knapp 100 Millionen Euro.