Oct 16, 2017
First security module for mini-HSM certified by BSI

The German Federal Office for Information Security (BSI) presented T-Systems the certification certificate for the first security module available on the market in the mini-HSM of the "Smart Meter Gateway" infrastructure. It's an important component for the introduction of smart meter gateways in Germany.
At the IT security trade fair, it-sa in Nuremberg, BSI department president Bernd Kowalski presented the certification certificate according to the Common Criteria EAL4+ for the TCOS-based high-security chip in the "Smart Meter mini-HSM" to Dirk Backofen, head of Telekom Security.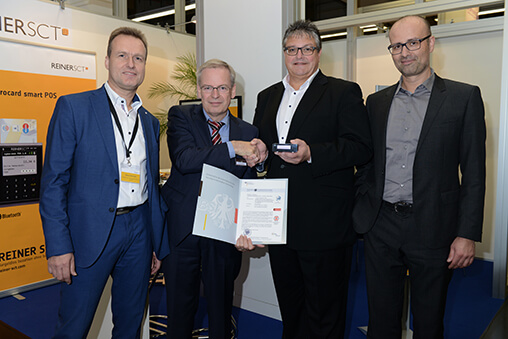 A "Smart Meter Gateway" is the secure communication unit of intelligent measuring systems for electricity, water and gas. The mini-HSM is the counterpart to the "Smart Meter Gateway" for secure data communication and is required by external market participants (EMT), among others, who process consumption data. This enables them to decrypt and verify data from the "Smart Meter Gateway".
Together with BSI, T-Systems and MTG, REINER SCT developed the smartHSM product, the core of which is the certified "TCOS Secure Crypto Module". This provides a cost-effective and scalable solution for small and medium-sized metering point operators and EMTs for their secure operation.
Bernd Kowalski explains: "The framework conditions for the secure operation of the "Smart Meter Gateway" infrastructure were created by the BSI in part with the Technical Guideline TR-03109. The current issue of the Common Criteria EAL 4+ certification certificate for the security module of the mini-HSM proves that secure components are now also available for the use of smart meter gateways. This represents another important milestone in the introduction of smart meter systems in Germany."