Features & Integration
The MTG KMS (also called encryption key management system) enables different applications in a company to access a remote, central security system that can perform all necessary crypto operations.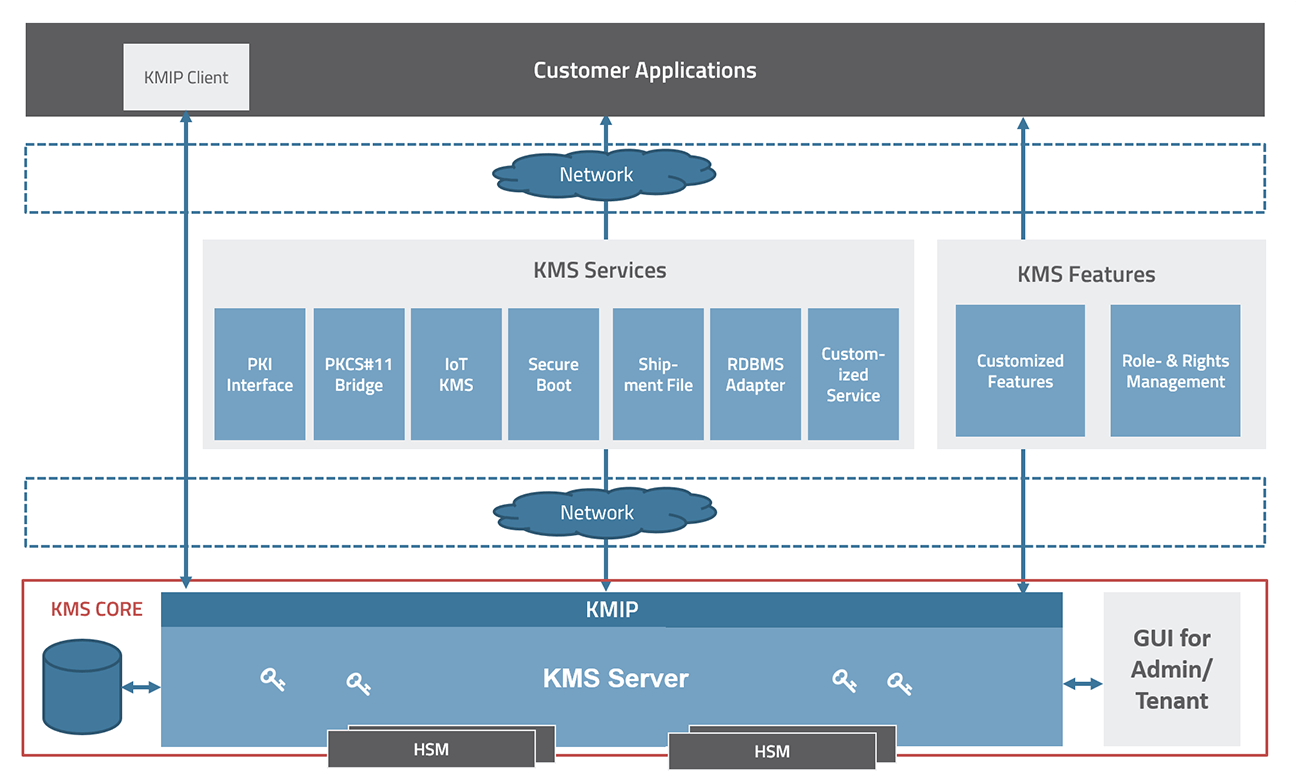 The entire key management lifecycle is already supported in MTG KMS and can be used via the standardized KMIP interface. The MTG KMS platform is multi-client capable. The dedicated role and rights management of the MTG Key Management System provides for the correct assignment of access rights of the clients to the respective keys.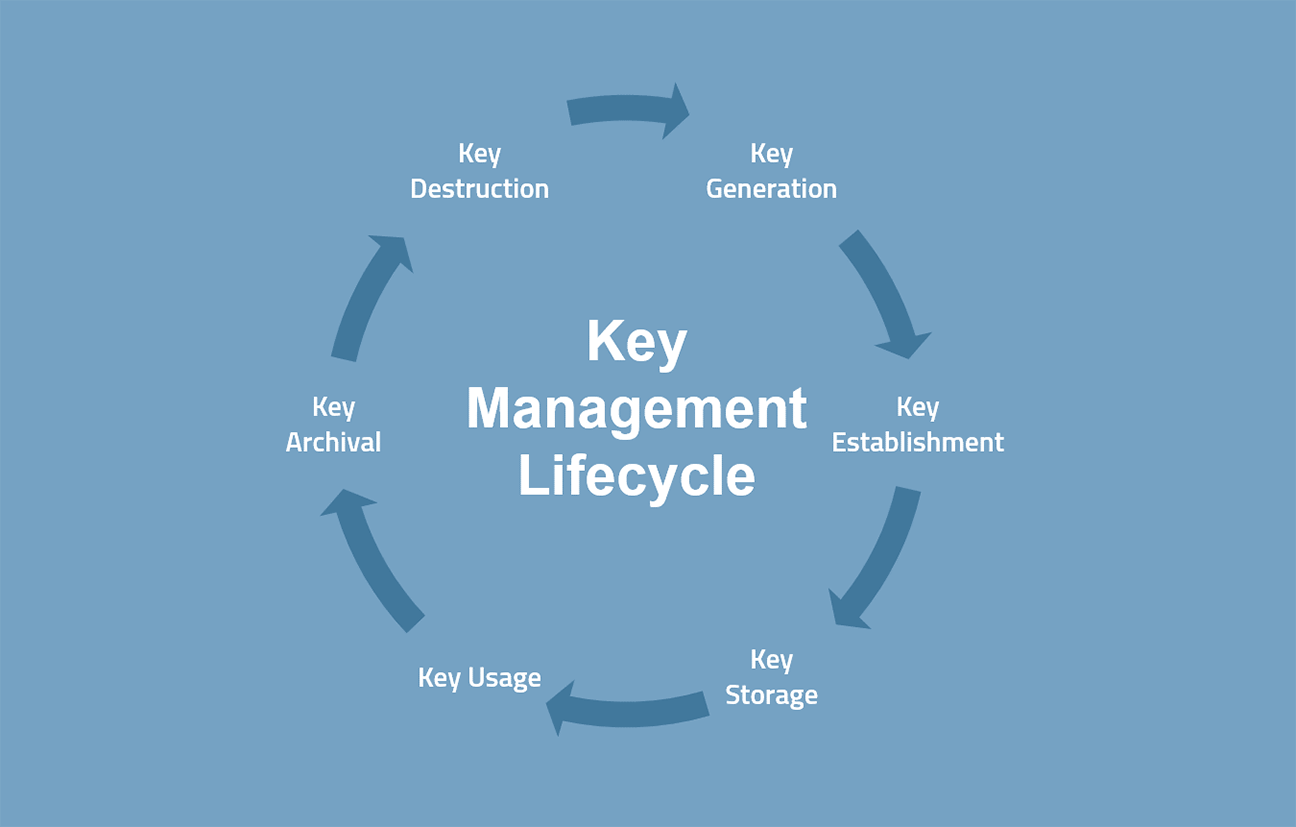 The KMIP interface provides smooth and easy integration of existing applications. Numerous applications already support the KMIP interface, others can be easily integrated using special services / adapters to the MTG KMS. Adapters for other common interfaces, such as PKCS#11 or JCA/JCE, additionally simplify the integration of applications.
In the event that the KMIP protocol does not support the required functionalities (e.g. bulk jobs, legacy applications), a REST API can be used in order to support a wide range of clients and applications.
A Public Key Infrastructure (PKI) can be easily integrated into the MTG KMS. The MTG Corporate PKI is optimally adapted to the MTG KMS.
MTG KMS supports various hardware security modules (HSM) vendors for the secure storage and generation of high-quality key material.
In cooperation with our customers, MTG develops a detailed specification that meets the individual requirements for the project. Departments involved (e.g. the production team) are fully integrated and interfaces are coordinated. MTG supports and advises on the selection and integration of the appropriate HSM in the context of the projects.
Industry solutions
MTG-KMS can be integrated into the business processes of various industries and adapted to specific requirements. For example, MTG KMS is used in various industries.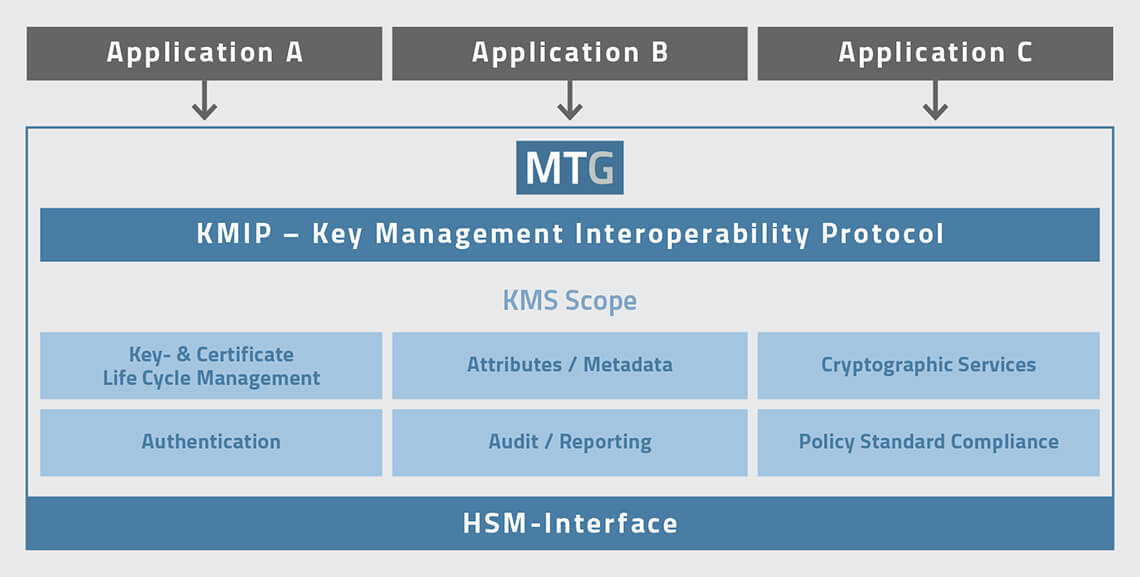 KMIP specifies all management operations for objects (e.g., digital certificates, private keys) stored and managed by a cryptographic key management system. The KMIP standard includes operations for symmetric and asymmetric cryptographic keys, digital certificates and templates that simplify the creation and control the usage of objects.

KMIP has already been implemented by leading companies (e.g. Dell, HP, IBM, Oracle, SafeNet) and is specifically supported in the Internet of Things (IoT). The KMS services (microservices) and adapters from MTG that are plugged in above the KMIP interface simplify the connection of the applications even further.