Our PKI solution
MTG CARA is a flexible and configurable, multitenant CA system - Public key Infrastucture - for the generation and management of X.509 and CV certificates.
All functions of a Registration Authority are already integrated in that PKI.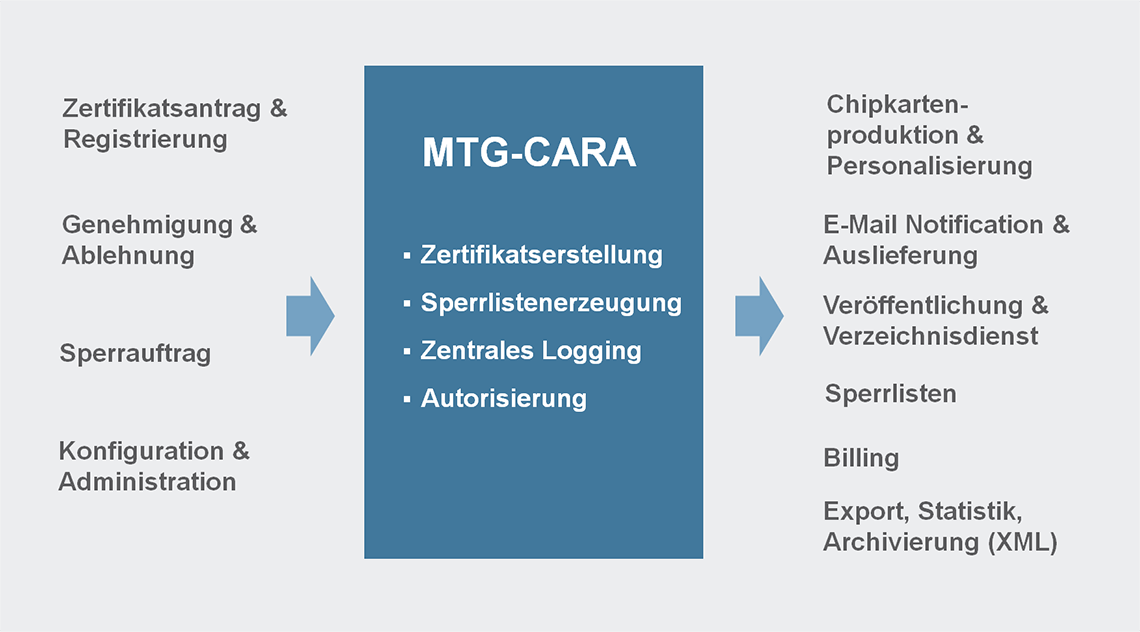 MTG CARA supports standardised interfaces such as SOAP, SCEP, LDAP and OCSP. As a result, the security functions can be integrated flexibly and seamlessly into corporate or agency procedures. Automation and the increase in efficiency of business processes are the pleasant result. Therefore, together with its high scalability and performance, MTG CARA is the PKI system of choice for going from "small" to "large", from an enterprise solution through to the Trust Center operation.
Main features of MTG CARA
Portability through Java, Web technologies and standardised protocols
Modular design allows fast, low-cost customising
Special rights and roles concept to map your organisational structure
Activation of various signers (soft-PSE, chip card, network-HSM)
Multitenant capability through virtual CAs
Management of large volumes of certificates by the domain concept
Central administration and centralised logging
Certificate format X.509, CV, AC
Certificate types CA, mail, SSL, router, etc.
XML templates for certificate profiles
Revocation lists via LDAP and HTTP
Synchronous certificate management
XML export for CRM, billing, statistics, etc.
Interfaces documentation
Custom layout/design
Scalable from a single-server solution up to the operation of a Trust Center