Smart Meter Sub-CA
MTG Metering-CA
MTG Metering-CA is a system designed to create and manage certificates for Gateway Administrators (GWA) based on the PKI product MTG CARA.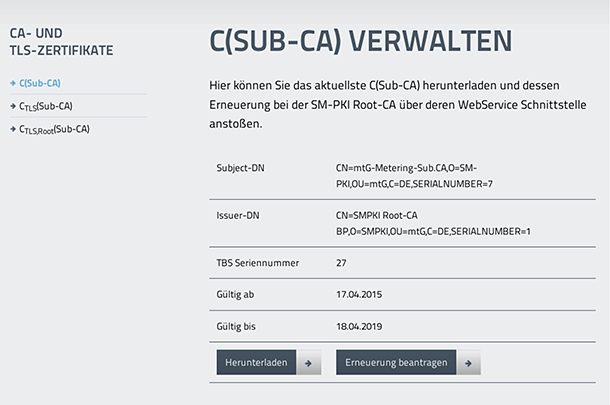 It meets the technical requirements of the BSI TR-03109-04, BSI TR-3145, as well as the certificate policy of the smart metering PKI.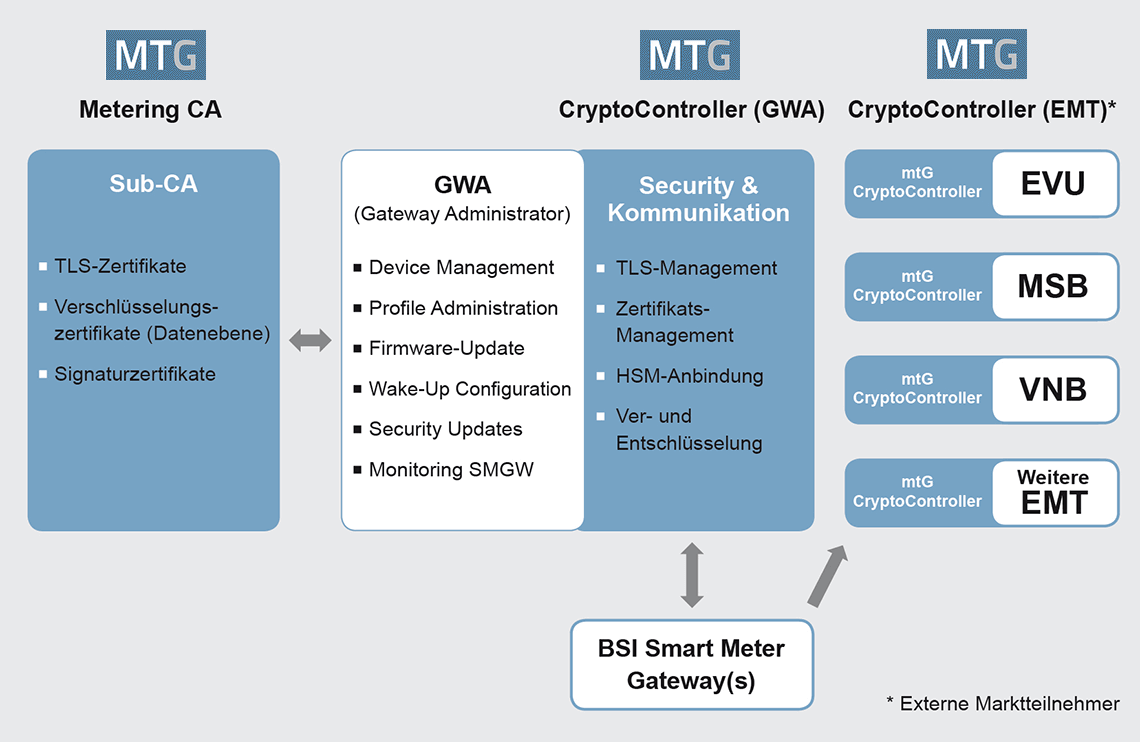 Premium PKI product for Smart Meter Gateway Administrators (GWA)
Metering point operators who want to set up the role of gateway administrator in their own company require certificates from an efficient Sub-CA.
The MTG Metering-CA is a leading Smart Meter Sub-CA product and has already been installed several times in GWA data centers which have been successfully certified according to DIN ISO 27001. MTG Metering-CA customers benefit from the multi-client capability and very high scalability of our product.
| Features | Metering-CA |
| --- | --- |
| Root-CA | 100% Smart Meter Root-CA compatible |
| TR-03109 conformity | Meets all technical requirements of BSI TR-03109 and certificate policy (CP) for Smart Meter PKI |
| Scalability | The Metering-CA is designed to manage several million certificates |
| Configurability | Extensible for CLS/energy management certificates |
| Revocation & statistics | Web service interface for revocation applications and statistical functions |
| CLS extensibility | Extensible for CLS/energy management certificates |
| Operation | Metering-CA |
| --- | --- |
| Multi-client capability | You can run multiple clients within one Sub-CA |
| Scalability & reliability | HSM components are usable as High Availability (HA) solutions and meet the TR requirements regarding backup |
| HSM support | The Metering-CA supports all (SM-PKI: chapter 6.2) certified HSM modules (preferably Utimaco) |
| Different operating systems | Platform-independent Web application. Runs under various operating systems (Linux) |
| Virtualisation and cloud solutions | The components of a Metering-CA can be operated as a cloud solution in a virtualised environment |
| Security concept | Our BSI-accredited evaluation facility for IT security has developed a template for a security concept (ISO 27000). |