MTG Mehrwert-Konnektor
With the upcoming Smart Meter Roll-Out, Germany will have a communications network that meets the highest security requirements worldwide. The Smart Meter Gateway will thus become a reliable communication end point in the home, offering very exciting marketing opportunities (e.g. submetering). The big challenge is to connect the large number of emerging value-added services and the associated IoT devices as easily and cost-effectively as possible.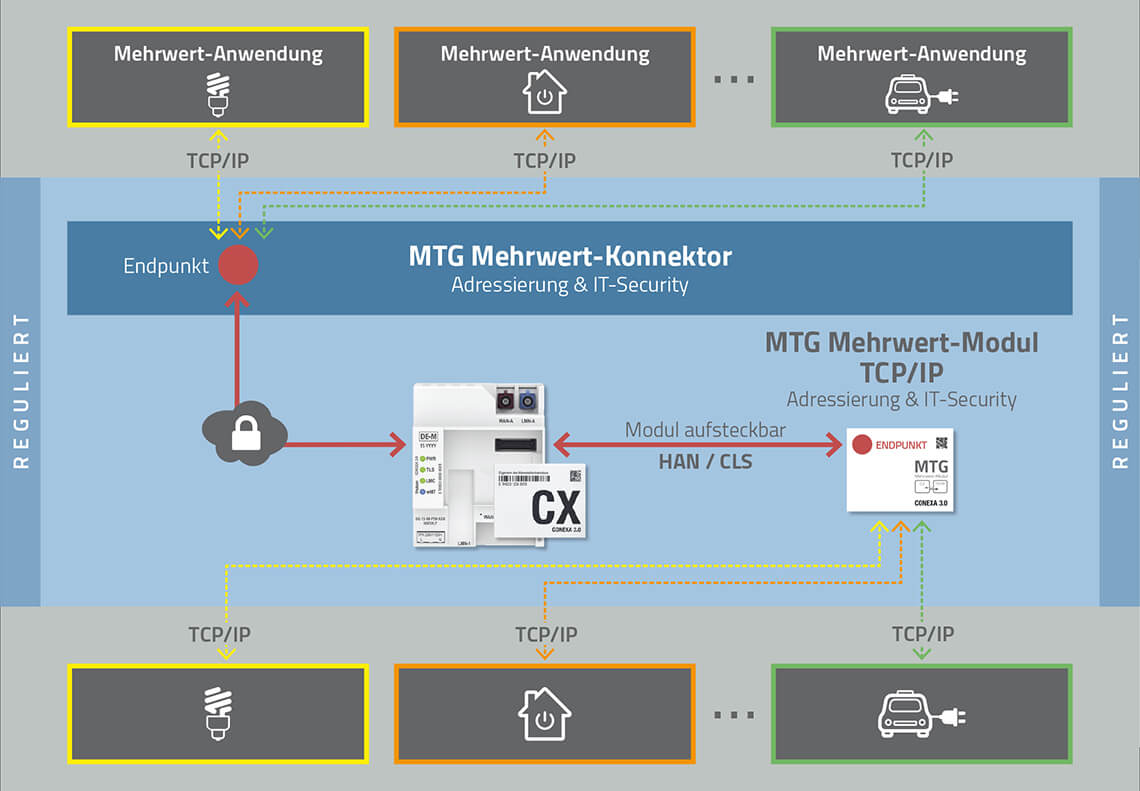 The MTG-Mehrwert-Konnektor (eng. value-added connector / MWK) is a central security system for value-added applications that want to access the Smart Meter Gateway. IoT devices can thus be controlled via the CLS channel of the Smart Meter Gateway and the legal requirements of BSI-TR 03109 can be complied with. On server side the innovative software builds the BSI-TR-03109 compliant communication link to the SMGW and also offers the option of controlling any number of connections via the CLS channel.
MTG Mehrwert-Modul TCP/IP
Value-Added-Module TCP/IP
"virtually any device with an IP address can be quickly and easily controlled via the SMGW infrastructure"
The MTG MWK is distinguishing itself by its intelligent switching technology, which is based on the combined use of a specially designed CLS plug-in module from Theben ("MTG value-added module TCP/IP"). Thanks to its intelligent switching technology, virtually any device with an IP address can be connected and controlled. The "MTG value-added module TCP/IP" and the MTG Mehrwert-Konnektor can be quickly and easily connected to the Smart Meter infrastructure.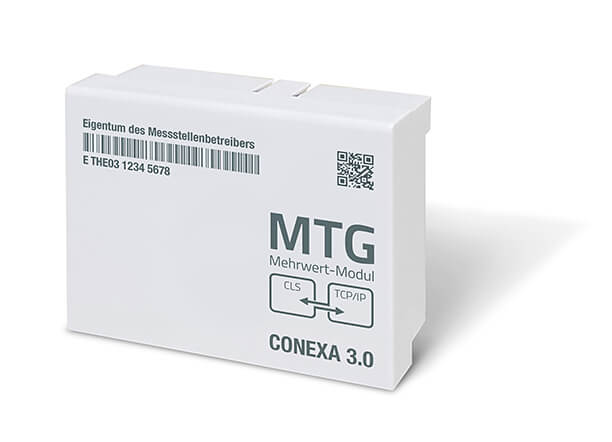 The value-added module can be plugged onto the CONEXA 3.0 to save space. On other SMGW models, the value-added module is mounted in a separate housing on the DIN rail.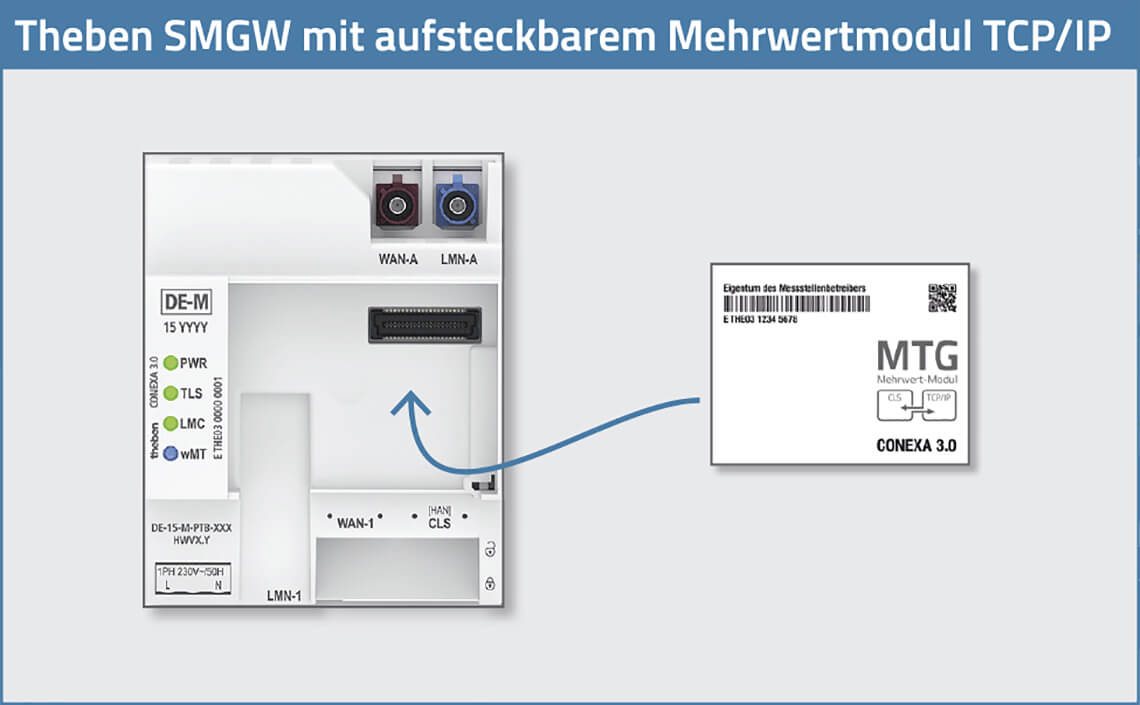 This allows the addressing and connection of any TCP/IP-capable IoT device to the application with a minimum of configuration effort. Even existing systems can easily be connected to the SMGW infrastructure via TCP/IP.

The connection between SMGW and the "MTG value-added module TCP/IP" just has to be set up once by the gateway administrator. All other TCP/IP-capable devices can then be configured, addressed and connected via this connection without further proxy profiles from the Gateway Administrator.
Fast technology transfer even for existing systems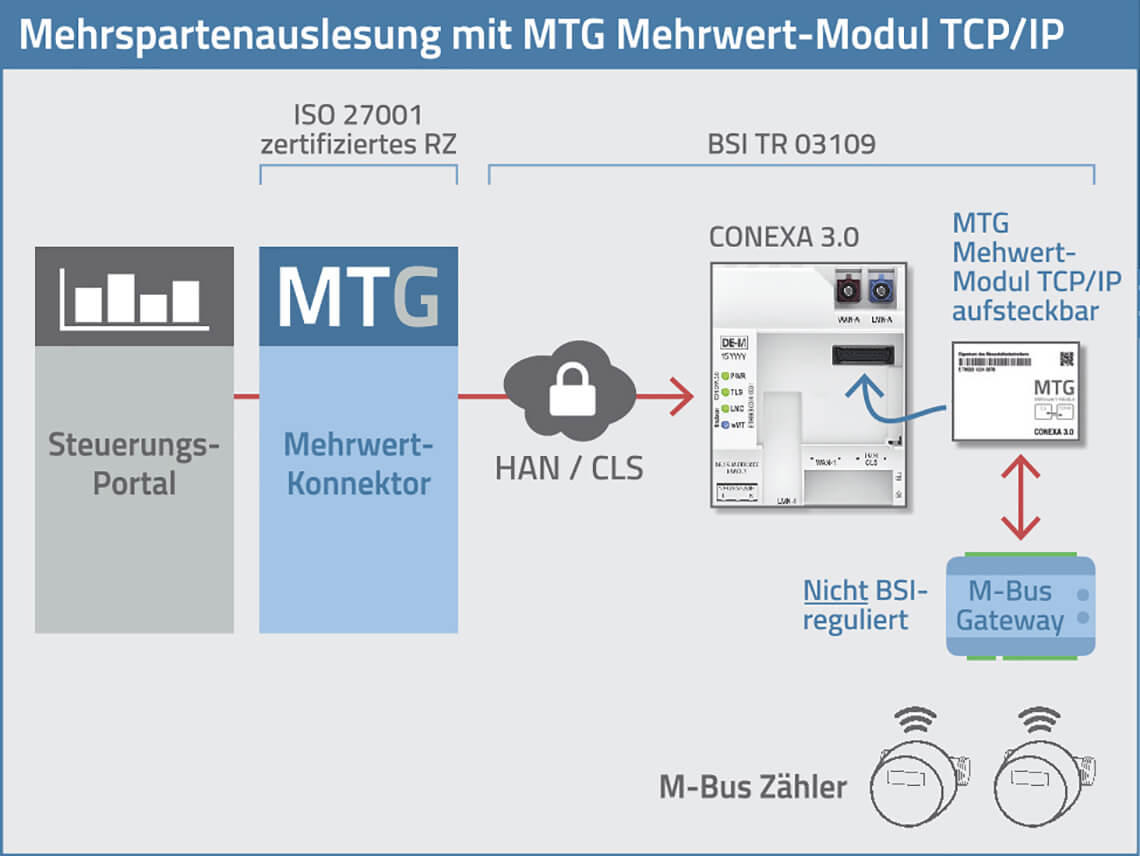 Most value-added applications in the future are likely to work with TCP/IP-enabled IoT devices. With this solution, existing applications and TCP/IP-capable communication modules such as routers, submetering collectors, control units for street lighting etc. can be connected to the SMGW infrastructure without any major integration effort.
Various Use-Cases
Implementing IoT business ideas quickly and cost-effectively (e.g. LoRa WAN applications)
FNN-compliant control of EEG systems with an FNN control box
Submetering projects / successful implementation of multi-segment metering
Receiving high-resolution smart metering data and using it for value-added services
Use the MWK as a pure CLS proxy for your own development projects.
FNN-compliant control of EEG systems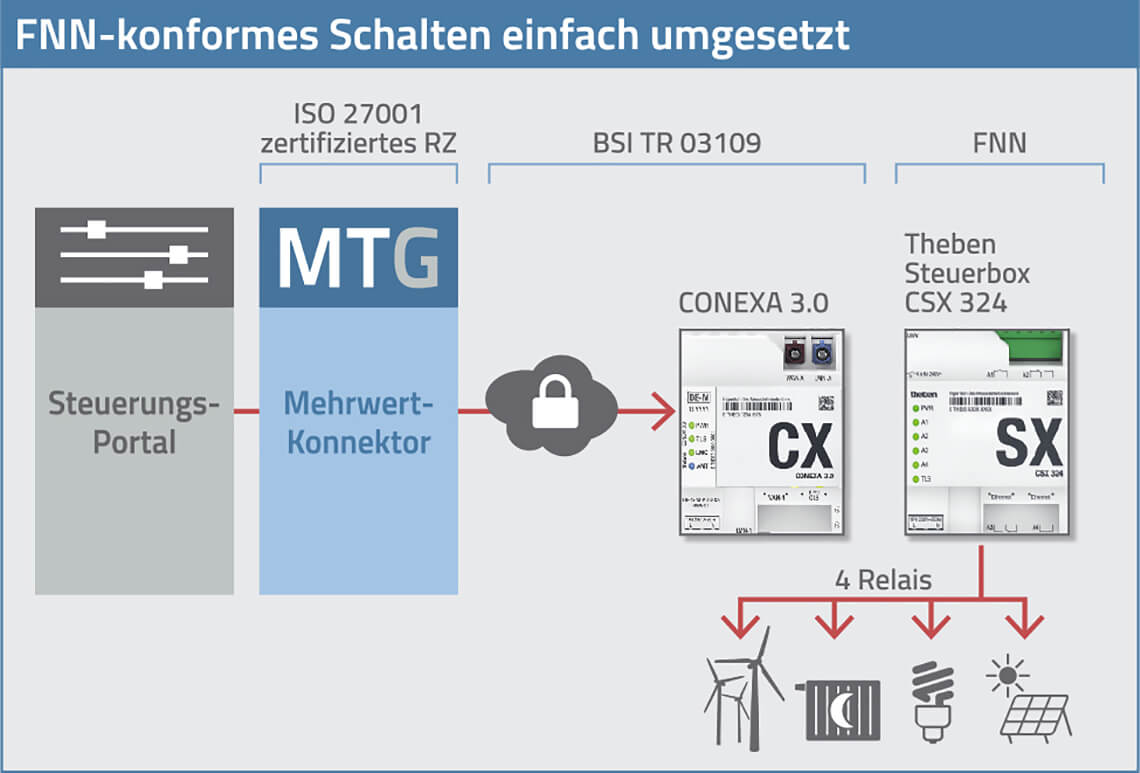 The MTG MWK can also be used to control EEG systems with FNN-compliant control boxes. For this purpose, the control boxes made by the manufacturer Theben are already optimally matched to the MTG MWK.
Fast integration of value-added applications
Comprehensive SDK
Innovative startups and application developers who need access to the SMGW infrastructure may use the free MWK development license. This makes the existing application "SMGW-Ready" with little integration effort.
MTG provides selected partners with a development system for connecting the value-added application as an SDK. The SDK is delivered in the form of a preconfigured Linux server (PC) including a detailed interface description for a small protection fee.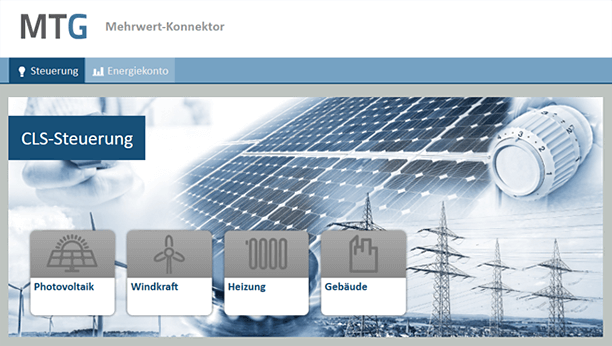 If required, MTG can provide consulting support for the connection process. If necessary, MTG can also offer its own simple portal for demo purposes.
Web-Enterprise Solutions for our clients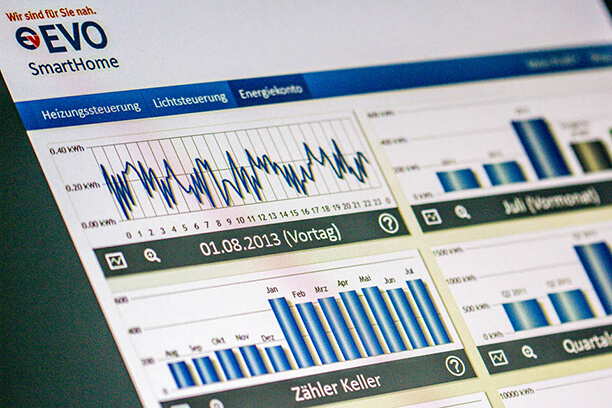 Standard software is limited when special requirements are necessary for the effective implementation of your business processes or innovative business ideas on the Internet. Tailor-made Web-Enterprise solutions fulfill your goals better and secure your competitive advantages. Our Business Internet Solutions division develops high-performance and secure business portals according to your specifications.
Consulting services
Certification as an "active EMT"
Our BSI-approved Evaluation Facility for IT-Security supports you in the planning and integration of the MWK into the IT landscape and the transition from test to live operation as well as in questions regarding certification as an "active EMT".