Background
MTG has developed a key management system (MTG KMS) specifically tailored to the requirements of the smart metering market. This can be used by manufacturers in production as well as by energy suppliers for device management.
The MTG KMS is a centralized security system with an open interface according to the international OASIS KMIP standard. All specific applications on the manufacturer side or at the utility company can be connected quickly and easily.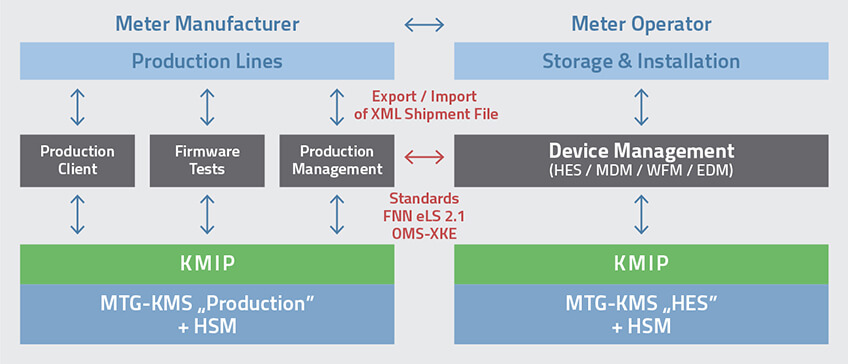 Target-Group
The European General Data Protection Regulation (GDPR) demands the pseudonymisation and encryption of personal data. Violations are subject to high penalties. In order to meet the high requirements, all manufacturers of intelligent measuring devices will need a KMS in the future. These include, for example, smart meter manufacturers as well as manufacturers of heating cost meters, water meters and all other intelligent measuring devices that process personal or sensitive data.
Without a central KMS, the level of complexity for key management increases. If each supplier of an application supplies its own key management, it must also be maintained individually.
Future-proof and flexible
A central key management system relieves the application from complex security tasks, standardizes security processes and thus reduces costs. The MTG KMS enables manufacturers and users to comply with company-wide security policies and quickly identify potential security threats, e.g. if key material is cryptographically obsolete. MTG KMS users are prepared for future developments. Already today, the entire life cycle of keys in the MTG KMS is supported and can be used via the standardized KMIP interface. The encryption and cryptography procedures used are constantly being further developed and updated.
Secure management of individual keys
In the future, each intelligent IoT device will receive one or more individual keys. The MTG KMS enables to manage millions of individual device keys efficiently and centrally.
The importance and relevance of managing individual keys in practice is well represented by the increasing numer of so-called botnets. These take benefit of weak or even identical serial keys to paralyze entire IoT networks.
FNN eLS 2.1 / OMS-XKE
Electronic shipment files
For the en- and decryption of electronic shipment files we offer all required "crypto functionalities". The application for the electronic delivery note can be connected quickly and easily to perform all encryption tasks.
Further KMS Industries
The MTG-KMS is also available for other industries and applications on request. These include, for example, the banking and financial sector, automotive, healthcare and industry 4.0 applications.