Overview
MTG CryptoController is required for Smart Meter Gateway communications in accordance with BSI TR-03109. To receive and read encrypted (mass) data, "External Market Participants" ("EMT") and Gateway Administrators must authenticate at the Smart Meter Gateway by using a secure channel.
Thus, the MCC is a very important module for all market players who want to supply products, measure values, control devices and communicate with each other in the Smart Meter market.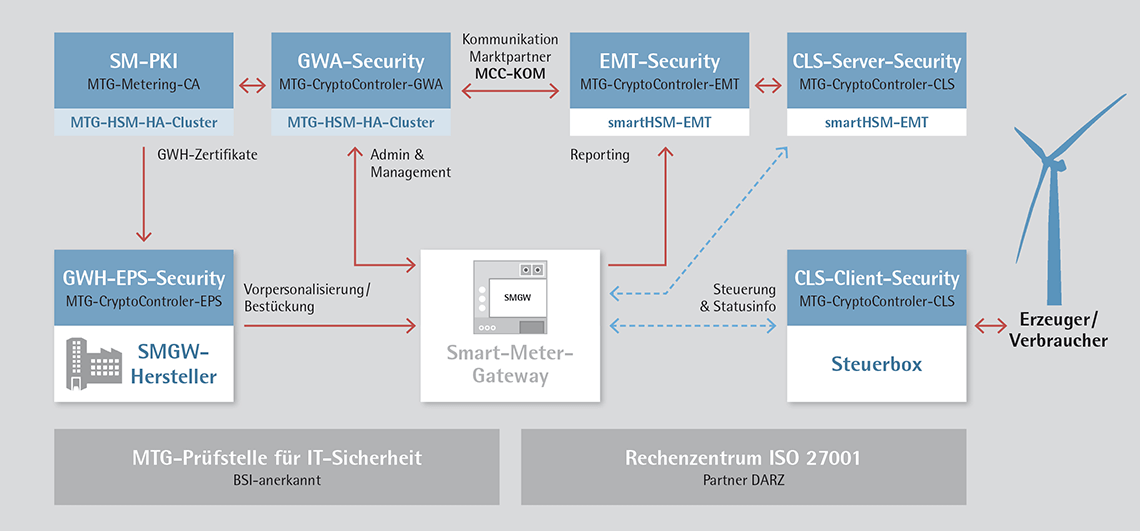 Ideally all essential smart meter applications can be connected on a single MCC security infrastructure.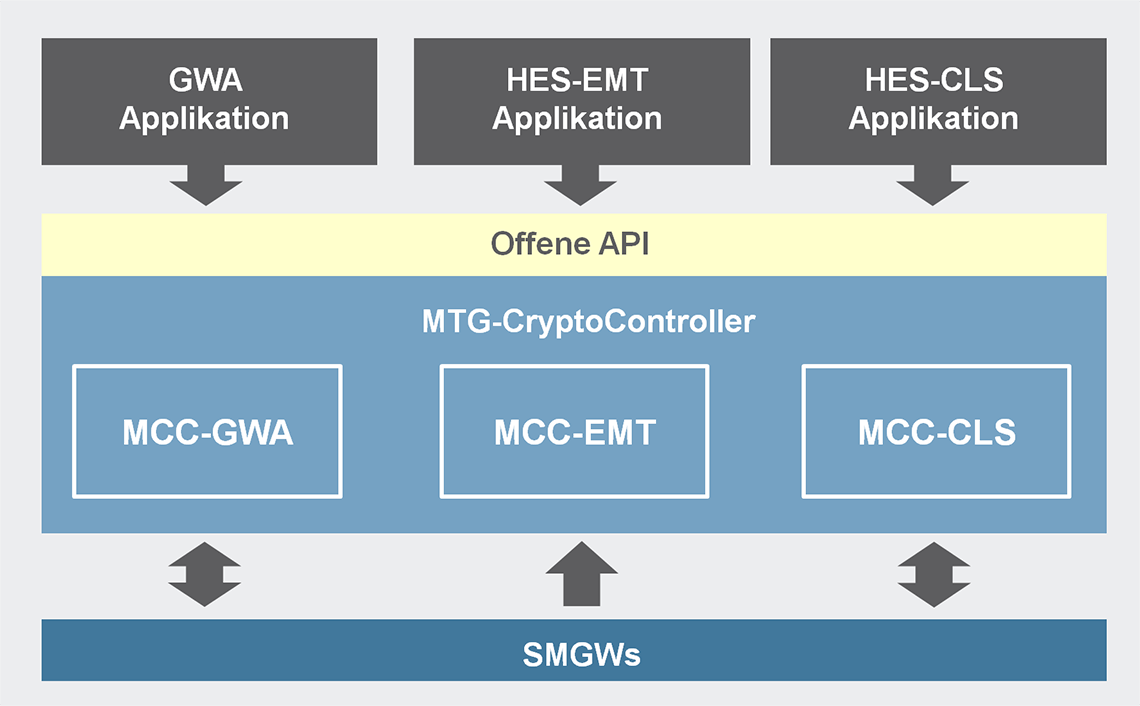 Thus the costs of those infrastructures can be distributed effectively, still meeting the complex technical requirements according to BSI TR-03109. This also applies to the certification costs, if GWA and in addition an active EMT have to be certified.
For External Market Participants
MCC-EMT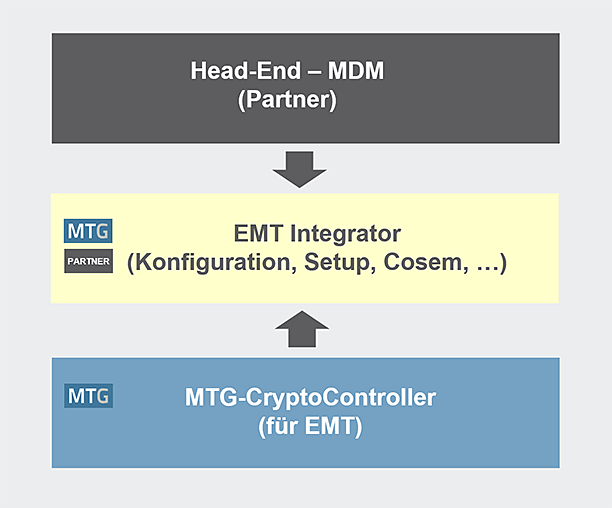 German measuring point operators/utility companies who want to receive their data in accordance with the BSI specifications in the TR-03109 need a BSI-compliant security infrastructure. Established MDM systems are thus being challenged, because not every system is capable of mastering the prescribed security processes.
Thanks to the MCC-EMT, all MDM systems are now able to receive encrypted data, decrypt them and then continue processing them as usual. To achieve this, an open interface is available for the MCC, which can be connected with minimal integration effort.
With the exclusive smartHSM EMT, investments and operating costs of the obligatory Hardware Security Modules (HSM) remain low.
For Gateway administrators
MCC-GWA
From a technical perspective, the Gateway Administration is not a new role but a new feature to manage and maintain Smart Meter Gateways via the admin and management channel on behalf of the responsible metering point owner/EMT.
Suppliers of the Gateway Administration software have the opportunity to connect their systems quickly and easily to the MTG CryptoController and thus to satisfy all technical requirements from the TR 03109 effectively.
Our cooperation partner GÖRLITZ uses MCC GWA and MCC EMT for their products IDSpecto GWA and IDSpecto DAYOS with HES adapter.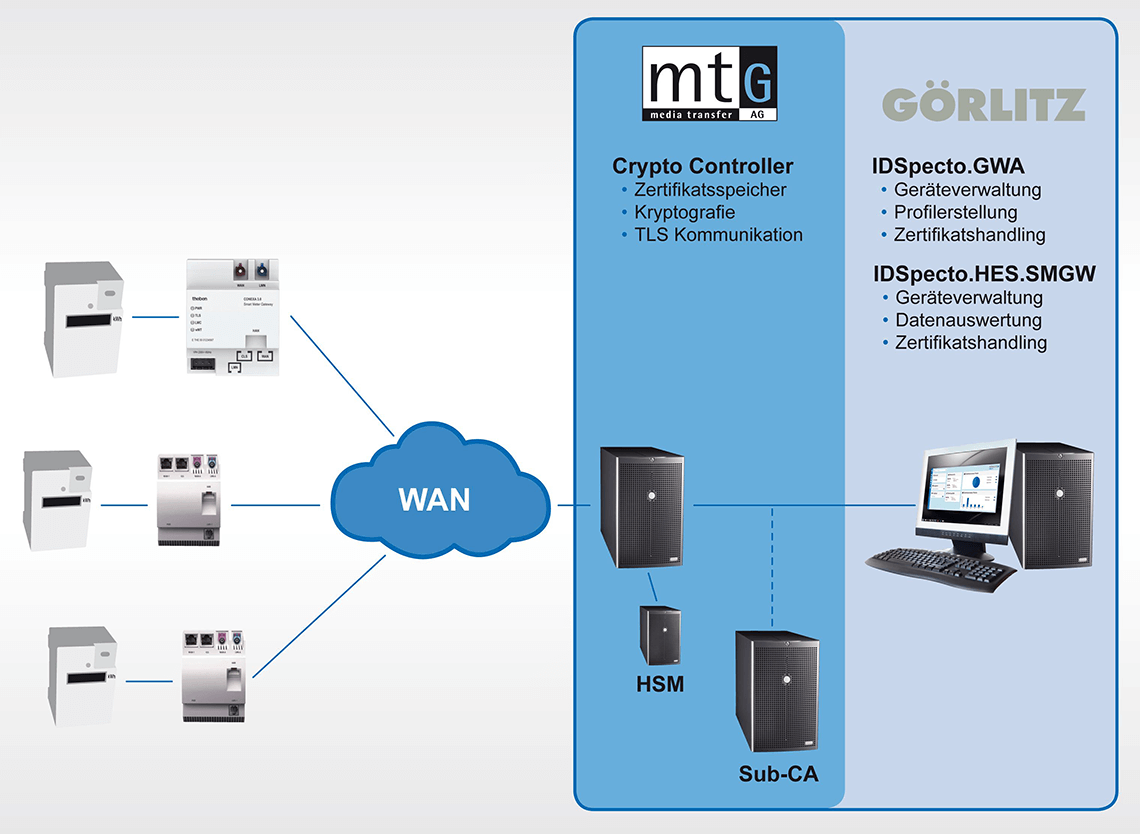 Market Partner Communication
MCC-KOM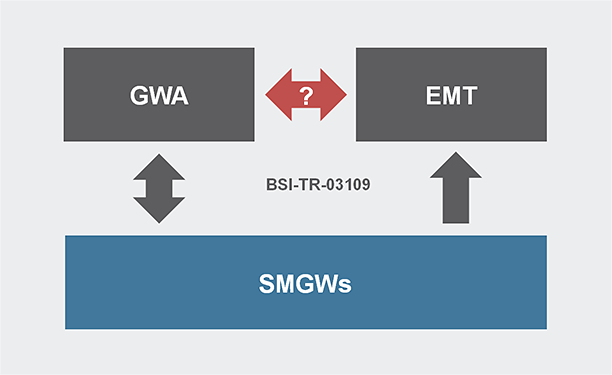 There continue to be no binding rules on how to create the secure communication between market partners after the interim period has expired in Germany. We assume that comparable standards, such as those for WAN communication, will be stipulated. MCC-GWA and MCC-EMT are already able to communicate with each other on this high-level security standard.
CLS Control
MCC-CLS
For the management of "Controllable Local Systems" (CLS), it is of major importance that control commands are delivered safely within fractions of a second. For this purpose, it is necessary to keep a large number of stand-by connections at the same time. On the server side, MCC-CLS ensures that encrypted commands coming from the Head-End System can be delivered to the control device via the SMGW. To do so, the GWA must be commissioned by the active EMT to establish a connection between the CLS application and the control device via the SMGW. At the level of the control device within the client software, the MCC-CLS ensures that the commands can be safely implemented. More info under "CLS Control".
For SMGW-Manufacturers
MCC-EPS
By using theMTG-Metering-CA and the MCC-EPS, manufacturers of Smart Meter Gateways are able to equip the hardware very quickly and flexibly with the required initial certificates. Furthermore the own firmware can be protected with certificates to ensure among other things that the SMGW can be operated only with original manufacturer software (CC requirement).