MTG KMS -
Crypto Agile and Quantum Safe
Post-Quantum Cryptography (PQC) addresses cryptographic principles and algorithms that are secure against attacks by quantum computers. According to experts, commercial quantum computers will most likely be available by the end of the next decade.
MTG KMS was developed on the basis of a consistent crypto-agile concept. Therefore, MTG KMS already supports key generation and execution of crypto operations in the context of quantum-safe cryptography. If customers want to use new standardized PQC algorithms, the central MTG KMS simply needs to be updated without any significant changes on the application side.
MTG KMS uses only high quality PQC algorithms that are part of the NIST selection process. The MTG KMIP interface has been extended to include these selected algorithms and is thus capable of generating PQC signatures and encrypting and decrypting data accordingly.
MTG PQC DEMO
Free PQC certificates and applications for testing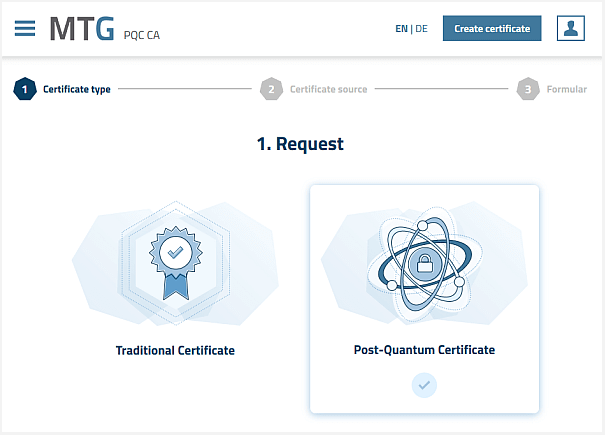 MTG has developed PQC solutions that can already be used and tested today. We would like to offer interested users the opportunity to experience themselves that quantum-safe applications can already be implemented in practice today. In order to use these applications, PQC certificates from the MTG PKI must be generated and deployed. More information about the applications and registration can be found at MTG PQC Demo.