For retail chains and cloud service providers, MTG offers all the ele-ments required for regulatory compliance and cost-effective operation of a TSE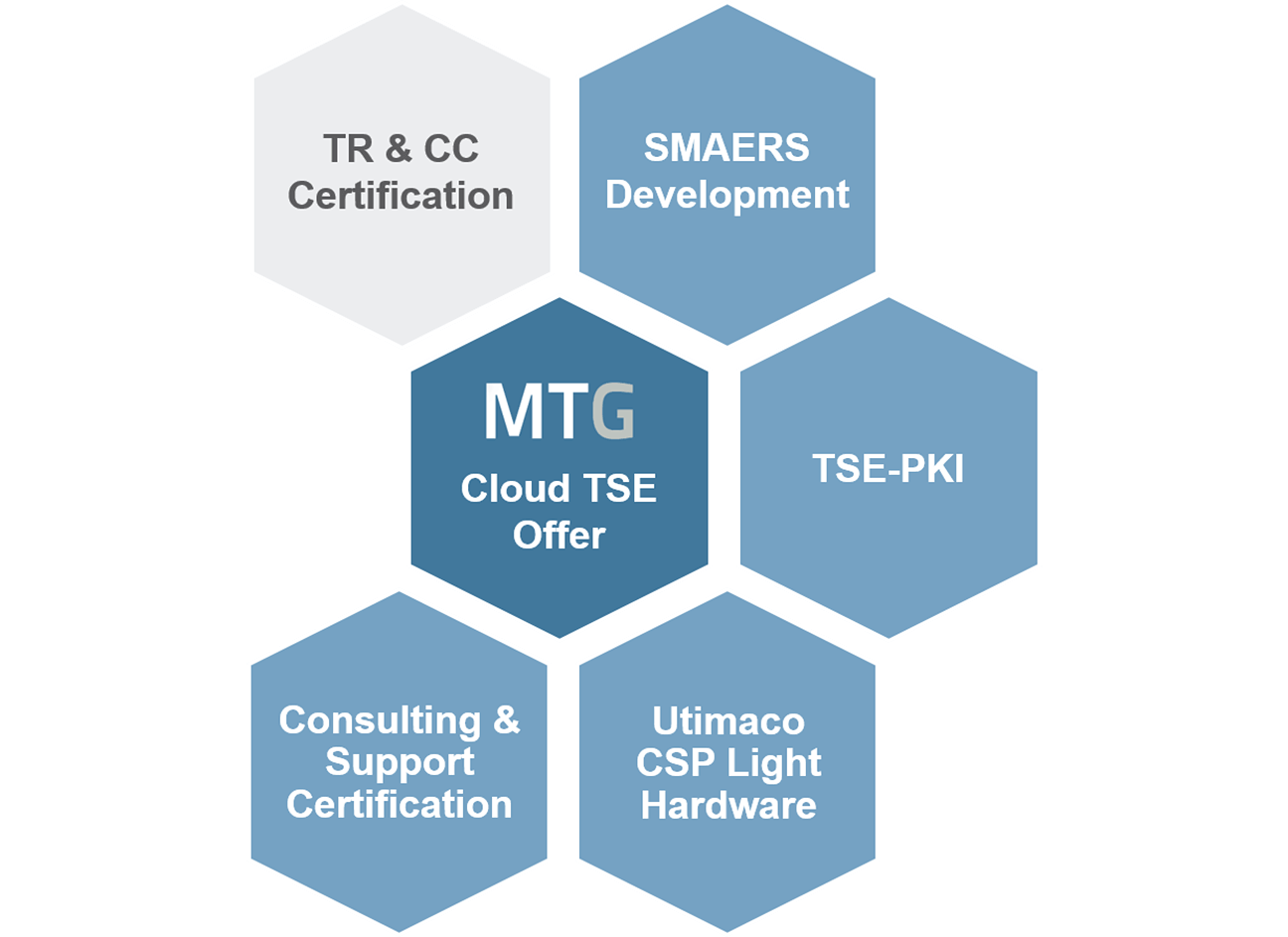 For its customers, MTG develops the SMAERS, which can be installed on the back-office servers of the retailers' shops or directly at the cash register. The SMAERS communicates with Utimaco's centrally installed CSP Light Server in the cloud. The required TSE certificates are provided by the MTG TSE PKI through our partner DARZ with cost-effective flat rates.
The DARZ meets all requirements according to DIN ISO 27001 and BSI TR-3145. The SMAERS specifically developed by MTG for its customers must then be evaluated by an authorized testing laboratory (BSI TR-3151 and CC EAL2).
The MTG Evaluation Faciliy for IT Security, approved and licensed by the BSI, supports and consults with preparation and documentation for a successful certification. In cooperation with Utimaco, the hardware compo-nents required for the CSP Light are provided.
Need of a TSE
In accordance with the "Kassensicherheitsverordnung" (KassensichV) all cash register, billing, security and recording systems must be equipped with a certified technical security system (TSE, so called Technische Sicherheitseinrichtung) as of January 1st 2020.
Since no certified TSE are currently available, a non-objection directive was published by the Federal Ministry of Finance on November 6th 2019, which does not object to the mandatory installation of a TSE by September 30th 2020.
A TSE is essentially subdivided into 3 components according to the BSI Technical Guideline TR03153:
CTSS Interface Component (the so-called uniform digital interface)
Security Module
Storage Medium
The Security Module is structured into:
SMAERS (Security Module Application for Electronic Record-keeping Systems, BSI-CC-PP-0105-2019) and
CSP (Cryptographic Service Provider, BSI-CC-PP-0104-2019) or CSP Light (Cryptographic Service Provider Light, BSI-CC-PP-0111-2019)